2014-03-20
Novruz Celebration at the Embassy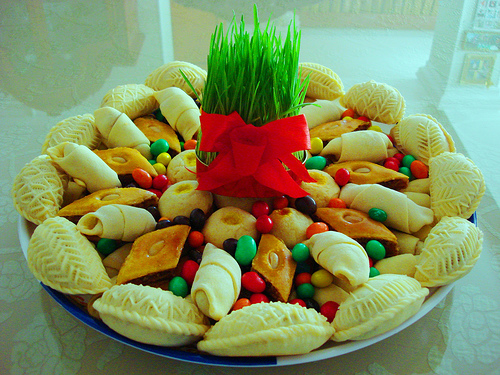 On March 19, 2014 H.E. Javanshir Akhundov, Ambassador of the Republic of Azerbaijan to the Islamic Republic of Iran hosted a reception on the occasion of Nowruz Holiday. Reception was attended by the Heads of diplomatic representations, including, distinguished Ambassadors of Turkey, Kazakhstan, Uzbekistan, Turkmenistan, Afghanistan, Pakistan, Norway, Finnland, Russian Federation, Slovak Respublic, and Czech Republic accredited in Iran.
Ambassador Akhundov briefed guests about Novruz traditions in the Republic of Azerbaijan, as well as how Azerbaijani people preserved their traditions of celebrating Novruz Holiday and passed them to the younger generations, although it was forbidden during the Soviet regime to celebrate Novruz. Distinguished guests were informed that in 2010 the Republic of Azerbaijan initiated a resolution on International Novruz Holiday at the United Nations General Assembly, and the resolution which was co-sponsored by the 11 UN Member states (Afghanistan, Albania, Azerbaijan, India, Islamic Republic of Iran, Kazakhstan, Kyrgyzstan, FOrmer Yugoslav Republic of Macedonia, Tajikistan, Turkey and Turkmenistan) was unanimously adopted.
Distingushed Ambassadors were demonstrated a video on festive celebrations of Novruz in Azerbaijan, historical roots of this holiday and cultural heritage of the country. Guests were served delicious Azerbaijani dishes which have symbolic meaning for Novruz and Last Tuesday of the solar year (Ilaxir chershenbe). At the end of the reception, in accordance with Novruz traditions and customs, distingushed guests jumped over the bonfire.