2016-04-05
H.E. Elmar Mammadyarov, Minister of Foreign Affairs of the Republic of Azerbaijan met with H.E. Mohammad Javad Zarif, Minister of Foreign Affairs of the Islamic Republic of Iran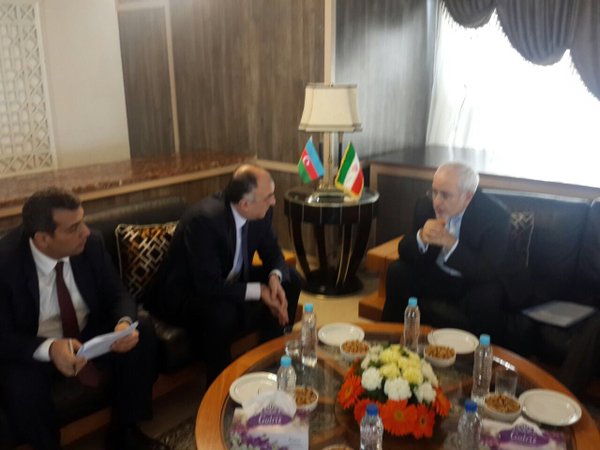 Foreign Minister Elmar Mammadyarov met with Mohammad Javad Zarif, Minister of Foreign Affairs of the Islamic Republic of Iran in Ramsar city on April 5 on the sidelines of Trilateral Meeting of the Ministers of Foreign Affairs of Azerbaijan – Turkey – Iran.
In the meeting the sides expressed their satisfaction with the current status of bilateral relations and emphasized that the visit of the President of the Republic of Azerbaijan H.E Mr. Ilham Aliyev on February 23, 2016 was an important step in the development of bilateral cooperation.
The development of relations in all spheres was stressed and transport corridors which are the important component of the cooperation between the two countries, as well as the development Nord-South railway were underlined. They also stated that the relations in bilateral and multilateral format between Azerbaijan and Iran significantly contribute to the regional cooperation. In this regard, it was noted that the trilateral meeting at the level of the ministers of foreign affairs of Azerbaijan – Russia – Iran will take place in Baku, on April 7, 2016.
Informing about the current situation in the frontline, Elmar Mammadyarov mentioned that Armenian armed forces targeting civilians densely residing in the territories adjacent to the frontline area opened intensive heavy weapons fire at the positions of Azerbaijan's armed forces along the line of contact on April 2, 2016. He added that although the cease-fire arrangement had to be effective from 15:00 of the same day, Armenian side did not followit and contrary to the decision of the Armed Forces of the Republic of Azerbaijan on April 3, 2016 in a peaceful and goodwill manner to suspend unilaterally counter and responsive measures, Armenian armed forces continue to fire at the positions of Azerbaijan's Armed Forces using artillery and heavy weapons along the line of contact. Minister noted that Armenia misleads the international community and tries to divert the attention from the core issues forming the basis of the settlement process of the conflict with escalation to consolidate the status-quo by all means.
Minster mentioned that the international community should exert serious pressure on Armenia and guarantee cease of Aremenia's provocations as well as the withdrawal of Armenian troops from the occupied territories of Azerbaijan. Azerbaijan supports ensuring of cease-fire and starting the serious political process for the settlement of conflict.
Foreign Minister of Iran expressed their concern on the current situation. He added that his country has good relations with Azerbaijan.
Mohammad Javad Zarif informed that one of shells launched by Armenia dropped into the territory of Iran and the Minister of Defense of Iran held discussions with the Ministers of Defense of both countries. Iranian side stressed that they support the soonest restoration of ceasefire and resolution of the conflict.
At the meeting, the sides discussed the regional issues of mutual interest.